For the past five years Biola's Center for Christian thought has been holding conferences which have addressed various big questions, such as: "What is Christian scholarship and how should it influence culture?" "How can psychology shed light on the process of spiritual formation" "What are the chief intellectual virtues that promote civil discourse within societies?" "What is the relationship between neuroscience and the soul?" This year CCT's annual conference revolved around the question: "What is the meaning of love?"
Gathered at Biola's beautiful campus on an unusually rainy Southern California weekend a wide variety of theologians, philosophers, pastors, psychologists, and social scientists gathered to see if they could make some progress on a constellation of questions related to the meaning of love. The conference, which was held on May 6th-7th, consisted of eight plenary sessions and twenty four breakout sessions. The contributors came from all over the map. There were presenters from Southern California institutions, including Biola, Fuller Seminary, Pepperdine, and Loyola Marymount among others. Presenters also came from institutions from all over the US, including the University of Kentucky, Texas A&M, Baylor, Reformed Theological Seminary, and Princeton Seminary. The fact that so many of the presenters came from different disciplines and different parts of the country made for quite an interesting experience. This diversity really embodied the CCT's goal of creating an environment in which Christian scholars from a variety of disciplines can work collaboratively on some of the most important issues of our day.
The Conference – A Summary
The conference was kicked off by philosopher-theologian Thomas Jay Oord. His lecture was quite fitting for an opening lecture of a conference on the meaning of love, as his was the only plenary session which explicitly attempted to give a definition of love. During his lecture Oord defined love by saying, "To Love is to act intentionally, in sympathetic/empathetic response to others (including God), to promote overall well being." He proceeded to unpack the various elements of this definition. The work Oord did in providing a definition of love proved to be quite fruitful as his definition often ended up being a point of discussion in various other plenary and breakout sessions.
Thomas Oord's lecture was followed by Frances Howard-Snyder's lecture which was titled "An Ethics of Love and Future Generations." Here she focused on the second great commandment, "Love Your neighbor as yourself." She wondered whether this commandment can help us think through the non-identity problem in ethics. Briefly the non-identity problem focuses on the obligations we think we have in respect of people who, by our own acts, are caused both to exist and to have existences that are in some sense unavoidably flawed. Her talk revolved around a thought experiment in which a mother is faced with two choices of 1) conceive a child now, knowing the child will be handicapped or 2) wait to have a child, and know the child will develop without any disabilities. She concluded that an ethic based on the second commandment would allow the mother to follow through with case one. Her conclusions received some intense pushback during the question and answer time, especially from Nicholas Wolterstorff. However, this sort of pushback and discussion embodied CCT's spirit of civility in the midst of disagreement.
The first two sessions approached the topic from a somewhat philosophical perspective, but the third and fourth sessions approached the issue from the social sciences. Lynn G. Underwood, presented a social science approach to understanding the concept of love. Her lecture focused on research done at a Trappist monastery and the Daily Spiritual Experience Scale, in which four out of the sixteen questions focus explicitly on divine love. Out of her research at the monastery she discovered various practices for strengthening love. Her research on the Daily Spiritual Experience Scale pointed to the fact that those who had higher scores on this scale tended to experience lower burnout rates and tended to report a greater loving attitude towards others. Her findings had some very practical implications for ministers in the audience. Not only did she address some ways to grow in love, but also she addressed some important issues of pastoral burnout.
Bennet Helm's lecture focused on what he calls "Communities of Respect." These communities hold each other accountable to certain binding communal norms. His research focused on whether or not this concept of "Communities of Respect" can provide a foundation for an objective morality based on an ethics of care. He provided an argument for how this may be so by turning to Kant who claimed that "concepts without intuitions are empty; intuitions without concepts are blind." Thus, in Helm's reading of Kant, the upshot is that objectivity requires grounding of moral theory in experience. Helm's conclusion seemed to be that the community's understanding of what ethics of care looks like will be grounded in that community's conceptual schemes. After the lecture, some concerns were raised as to whether Helm had read Kant correctly and whether this account can actually provide a robust account of objectivity that Helm seemed to be after.
The final plenary session of the first day happened immediately after a dinner reception in which the attendees were served a delicious full course meal. Here Nicholas Woltersorff built upon earlier research on the relationship between love as beneficence and justice by turning to the relationship between love as attraction and justice. Love as attraction and justice are two modes of acknowledging embedded goodness. Thomas Aquinas defines beautiful things as those which please when they are seen or heard. Thus, For Aquinas beauty is a recognition of the embedded goodness of a thing. Thus, Wolterstorff made the connections and argued that in a way, attraction and justice are intimately related to recognizing the beauty of a thing.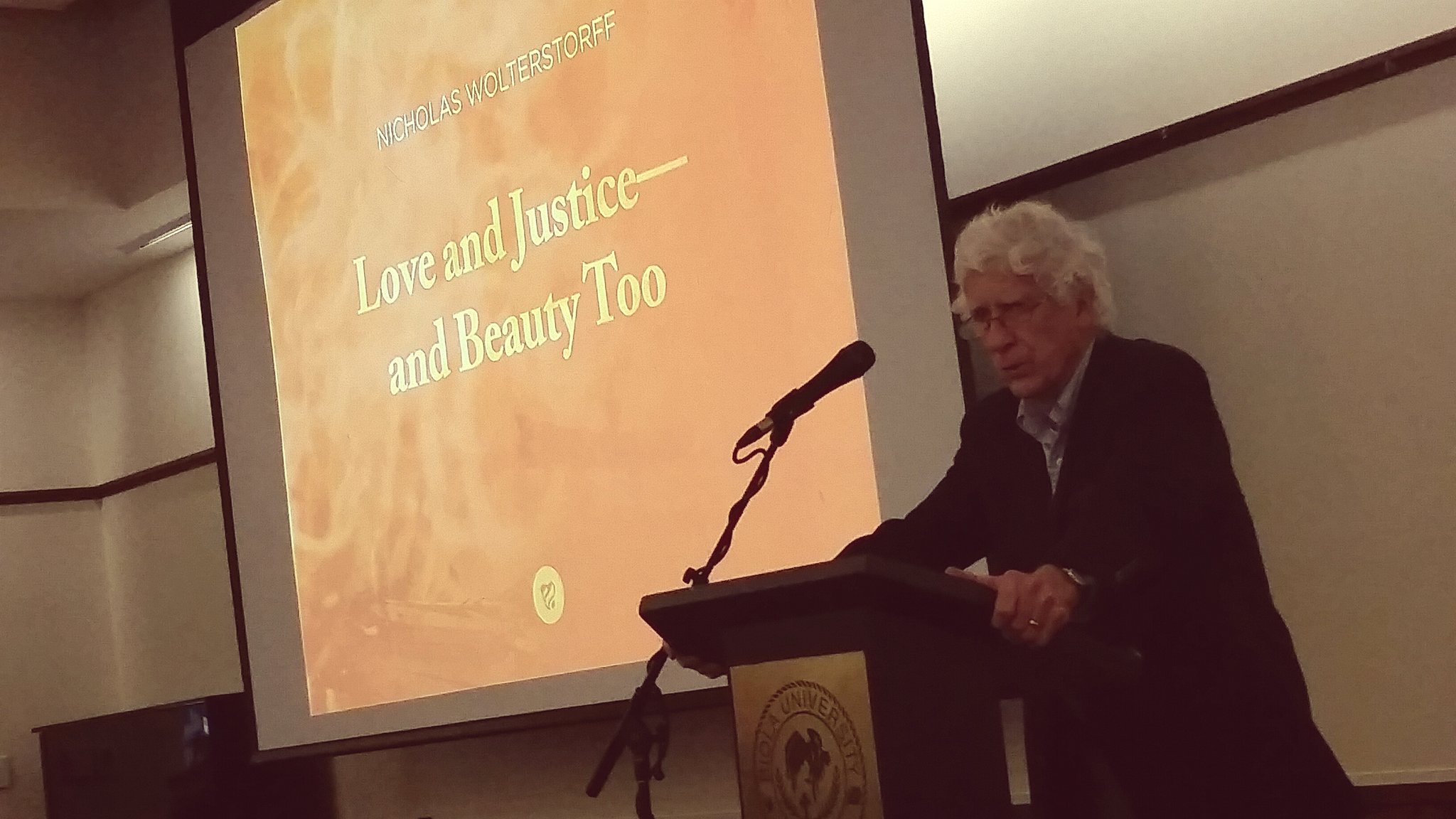 Saturday morning's first session was kicked off by Princeton theologian George Hunsinger. With what might have been the most creative plenary session, Hunsinger compared the work of J.R.R. Tolkien with that of Karl Barth. One would be hard pressed to find other scholarly work making this sort of comparison. The lecture began with an explanation of Barth's account of agape. Barth's definition of God's agape includes four elements: 1) a concern for fellowship, 2) a disregard for aptitude or worthiness in the object  of love, 3) it is an end in itself, and 4) it is necessary. He then turned to the mystery of evil in Barth and Tolkien. He pointed out the affinities between Barth's account of evil as das Nichtige (Nothingness) and Tolkien's description of the Witch King of Angmar – the Lord of the Nazgul in The Lord of the Rings. Both the Witch King of Angmar and das Nichtige are conflicted and absurd, actual and empty, a symbol of an impossible possibility. The defeat of both of these elements cannot be divorced from longsuffering, which is a crucial aspect of agape.
The final two plenary sessions were delivered by Stephen Post and Alan Tjeltveit. Post argued that a recognition of the image of God in every human being can provide the basis for the practice of agape love toward those whom he called "the deeply forgetful" i.e. those with dementia, Alzheimer's, etc. Post drew upon his experiences to give real life examples of what it would look like to show love towards this particular group of people. Tjeltveiet showed how a two-way interaction between psychological research and theological insights can shed light on issues which impede love and provide practices which can help provoke love towards others. These practices include being careful how we use the word love, training our emotions, choosing our social contexts wisely, developing empathy, choosing to perceive the worth and goodness of others through God's eyes, and finally, but perhaps most importantly, allowing God's grace to develop the virtue of love within us.
In addition to these plenary lectures there were a number of breakout sessions. These breakout sessions covered a wide variety of topics including: medieval theology of love, non-violence and love, definitions of love, love and technology, biblical accounts of love, and philosophical perspectives on love. Most of these breakout sessions were marked by quality presentations of original research and lively discussion after each paper.
Some Thoughts About the Conference…
This was my first time at a Center for Christian Thought conference, but suffice it to say that I walked away from it very impressed. First, the environment was excellent, and I'm not just talking about the venues for the main sessions and the breakout sessions, though they were superb. I'm talking about the tone and feel of the conference. The environment was collegial. There was a real sense that everyone present was there to support one another's work and research. Though at times some of the responses were critical, they were always critical for the purpose of building up. The environment was productive. Some of the presenters that I talked to really felt as though they received really good constructive feedback during the sessions which will help them improve their work. Also, some new lines of research were opened up for some of the participants. One could hear chatter during the breaks about future lines of research on the subject of love. Finally, the environment was fun. That isn't usually what you expect from an academic conference, but it was fun nevertheless. There was a sort of lightheartedness that pervaded most of conference. Whether it was Thomas Oord or Nicholas Wolterstorff's jokes, discussions at lunch over gourmet sandwiches and salads, or the root beer float reception at the end, the conference was quite enjoyable.
But more than being a great environment for the conference, another feature of the weekend that stood out to me was the strength of most of the presentations. Naturally there were a few that were not as impressive (including a couple of the plenary sessions), but most of them did what good research does, i.e. they presented original ideas and/or further lines for future research. A few that stood out to me as being especially strong where Thomas Jay Oord, Nicholas Wolterstorff, and Alan Tjeltveit's lectures. In my opinion each of these lecturers embodied what the CCT is all about. They were doing serious Christian scholarship which will have further implications for not only the church but for society in general.
Overall, I came to the end of this conference with the opinion that more of these kinds of conferences need to happen. We need more rigorous Christian scholarship that has an eye towards serving the world and the church. We need more opportunities for scholars who take their faith seriously to interact with others who share the same goal if doing scholarship for the sake of the world. We need more venues for this sort of scholarship to happen and to flourish. Although it was my first time at this conference, I see that Biola has a good thing going with the Center for Christian Thought. I look forward to seeing what they have in store for the community of Christian scholars next year.